Family Chiropractic Care in Farmington
The purpose of chiropractic care is to improve the communication between the brain and the rest of the body. This task is accomplished through gentle adjustment of spinal misalignments to remove nerve interference. Once nerve interference is corrected, optimized nervous system function is restored, allowing the body to be as healthy as it can be.
Benefits of Chiropractic Care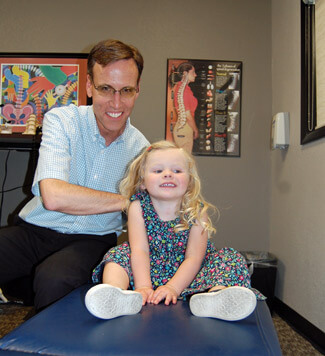 Dr. Bentley offers our patients the very best in research-based chiropractic techniques. These approaches include manual adjusting (Diversified), as well as low-force techniques such as Activator Methods®, Arthrostim®, cold laser, spinal decompression and Thompson Drop-table.
Here are just a few of the many benefits you can expect to receive:
Better sleep
Greater mobility
Improved immune system function
Increased vitality and energy
Less pain
Reductions in allergies
We Take Good Care of Those We Serve
Our office is family-oriented, and we treat every person that walks through our door as a member of our own family. All ages are welcomed to our clinic, and we take special pride in treating patients from prenatal all the way to geriatric.
We're also able to provide moms-to-be with a safe and healthy pregnancy through our specialized Webster Technique. Children of all ages also profit from our gentle treatments. Benefits include significant help for ADD, anxiety, athletic performance, colic, digestive issues, ear infections and scoliosis.
Rest assured that Bentley Chiropractic works hard to gain your trust through our caring and customized treatment protocols. Gentle chiropractic care is designed to get you back in the game of life; the sooner the better! Contact us for a free consultation today; we accept same-day appointments.
CONTACT US »

Chiropractic Care Farmington | (505) 564-8555